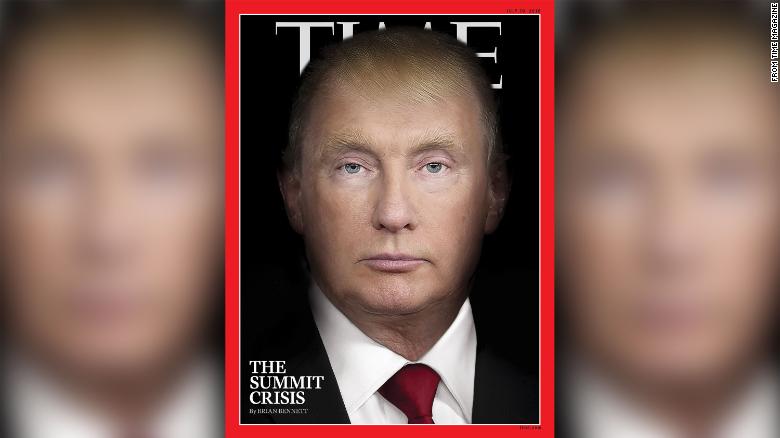 TIME Cover Photo
a merger of Trump and Putin
Not My Latest Song (further lyrics pending), a collection by Giorgio Coniglio, July 2018.
This blogpost serves (covertly) as Singable Limerick Medley #29.
(actual lyrics disappeared along with 33,000 other emails, but this collection could be sung to the "Limerick Song")
1) Though the IOC dinged us for doping,
Russian 'Hacking Teams' won't just be moping —
Expert dupers are scooping
Covert medals for
duping
.
It's a banner-year, Vladimir's hoping.
2) Kim Jong Un, please don't dare plant a nuke on
That magical place called 'The Yukon'.
Visit soon (bring kimchee); oh, how honored we'd be!
Drop by Whitehorse; you'll see, our terrain's mostly scree,
And so cold that you can't grow a
cuke
on.
Check out the related song "Something to Groan About"
3)
He's been called
Disingenuous
Don
(And Rex Tillerson's voiced thereupon).
He'll confound fact and fable,
But loves watching cable —
Mostly Fox, where he finds there's 'More on'.
4) In discussions re V-L-A-D-I-M-I-R P-U-T-I-N,
I'd request to put this little toot in:
After letters you bump,
Get "
Invalid, I, Trump
".
Senate Hearings? There'll be no refutin'.
5) "Hateful critics don't follow my reasoning --
I've unflavored the borscht with new
seasoning.
Even Fox mocks my views
And distributes fake news;
Unintelligent folks think I'm treasoning."
UKULELE-FRIENDLY FORMAT (and guitar, too!)
(This section may not be unavailable at present; we are unaware of the whereabouts of the server)
Readers are advised to review the unredacted versions of these verses at our alternate blogsite devoted to poems, wordplay etc, "EDIFYING NONSENSE"

here

.
OOPS! Try this one instead: here.
But, please come back to this site later for more songs.